Welcome to GASTROSURGERY GROUP
The Department of Gastrointestinal Surgery is a super speciality unit dealing with the management of diseases related to the human gastrointestinal tract involving the related organs namely oesophagus, stomach, pancreas, liver, gall bladder and biliary tract, small and large intestine, rectum and anus.
Our trusted and caring team of Surgical Gastroenterologists provides service and helps you achieve optimum health through a multitude of services. Whether it's simple, but sometimes life-changing advice or advanced surgical care, they have the answers for you...
The Department has a team of highly qualified and experienced Surgical Gastroenterologists performing a range of surgical procedures including Oesophago-gastric, Hepatobiliary, Pancreatic, Intestinal, Colorectal, GI Cancer and Bariatric procedures.
Combined Approach: Management of these patients with complex gastrointestinal diseases is done in close co-ordination with a team of highly qualified and competent Medical Gastroenterologists. Experience has shown that such an integrated approach to patient management strongly impacts and improves patient care especially in problems such as upper and lower GI bleeding, biliary leaks, acute and chronic pancreatitis and ulcerative colitis.
Minimally Surgery Invasive: Application of Laparoscopic as well as Robotic surgical techniques to various gastrointestinal surgical procedures is routinely being done by the department thus allowing for rapid postoperative recovery with reduced patient discomfort. These techniques have been especially useful in operative procedures such as low and ultralow rectal cancers and procedures directed at the gastro oesophageal junction.
Gastrointestinal Cancer: The department has a special focus on the treatment of gastrointestinal cancer and is committed to provide the highest level of care and expertise to our patients. In an effort to achieve this we follow a Multidisciplinary approach by collaborating with other specialist from the fields of Medical Gastroenterology, Oncology, Radiology and Radiotherapy. Decisions regarding complex cases are made in a Multidisciplinary Team setting and the surgery is usually performed with two trained surgeons in attendance.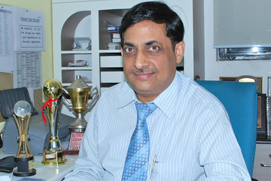 DR. DEEPAK GOVIL
MBBS (AIIMS)
MS (Surgery) (AIIMS)
PhD (GI Surgery) (AIIMS)
Dr. Vivek Tandon
MBBS (MAMC)
MS (Surgery) (MAMC)
McH (GI Surgery) (AIIMS)
About Us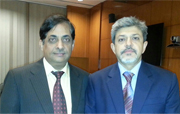 Dr. Deepak Govil and Dr. Vivek Tandon have both been trained in the field of gastrointestinal surgery at the prestigious All India Institute of Medical Sciences. The department of Gastrointestinal Surgery has been set up by them at Apollo Hospital with a strong belief in the "team approach" for optimal patient care. Both have worked extensively in the specialty in various large public and private sector hospitals for over two decades. Evolving with the advances in surgical techniques they have a special focus in the "minimally invasive" approach and are extensively using laparoscopic and robotic surgery in the treatment of GI diseases.
Surgical Procedures
UPPER GI SURGERY
GALL BLADDER & BILIARY TRACT
PANCREAS
LAPAROSCOPY & ROBOTIC SURGERY
COLORECTAL SURGERY
G I CANCER
SURGERY FOR ULCERATIVE COLITIS
Dear Dr. Govil Hello, I am Takamitsu Kodama, MD who is a husband of Chiaki Kodama. Today, we arrived at Japan safety. In fact, I was anxious about long-time flight. There was not the problem in particular. On the coattails of your and your colleague, we were able to go back to Japan. Originally, the purpose of visiting India was participating the Criticare 2011. The plan had been out of order due to the unexpected admission and operation. At that time, I was very confused. However, I was encouraged by your powerful and reliable words and manner.

Hi Doctor, This is your patient Marie Tucker from the states that arrived in your hospital with an open appendix wound and fecal fistula. Just a note to give you my deepest and most sincere thank you to you and your staff.  Give my thanks to the wonderful doctor that took over my wound dressings, I will never forget his care and tenderness. To the young , tall, male phlebotomist that changed my IV port without me feeling it.  A big thank you to all of the young beautiful nurses that were very helpful.  Please give my hellos to Sunni George and Mena Thomas.  My gratitude to the housekeeping staff that went above and beyond especially the little thin gentleman that was very attentive to mine and my husbands needs.

Greetings from Addis Abeba, Ethiopia. Mr. Mombasa Souraphiel arrived here in Addis Abeba, yesterday February 2nd, 2015. He has been cured from his illness thanks to your dedicated medical assistance. He looks well and has put weight. He is grateful to you personally and he has informed us that he has brought medicine to take for the next six months. We are grateful to you and to your staff, as well as to Apollo Hospital and staff for doing what was possible to cure our brother. We would be happy to meet you in person to thank you. Therefore, if you come to Addis Abeba, Ethiopia, please let us know in advance.